Saturday Jun 26, 2021
An Interview with Brandie June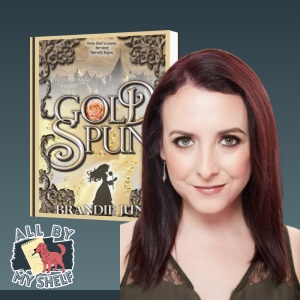 My first guest on ALL BY MY SHELF is debut YA author Brandie June! Gold Spun is already out on shelves so you can make your purchase through the Bookshop link here in the show notes.
"June shines in this retelling of Rumpelstiltskin . . . with memorable characters that will appeal to a broad range of fantasy readers." -School Library Journal
If Nor can't spin gold, she can always spin lies.
When seventeen-year-old Nor rescues a captured faerie in the woods, he gifts her with a magical golden thread she can use to summon him for a favor. Instead, Nor uses it for a con-to convince villagers to buy straw that can be transformed into gold. Her trick works a little too well, attracting the suspicion of Prince Casper, who hates nobody more than a liar. Intent on punishing Nor, he demands that she spin a room of straw into gold and as her reward, he will marry her. Should she refuse or fail, the consequences will be dire. Desperate for help, Nor summons the faerie's aid, launching a complicated dance as she must navigate between her growing feelings for both the prince and faerie boy and who she herself wishes to become.
--- This episode is sponsored by · Anchor: The easiest way to make a podcast.
https://anchor.fm/app
--- Send in a voice message: https://anchor.fm/abms/message